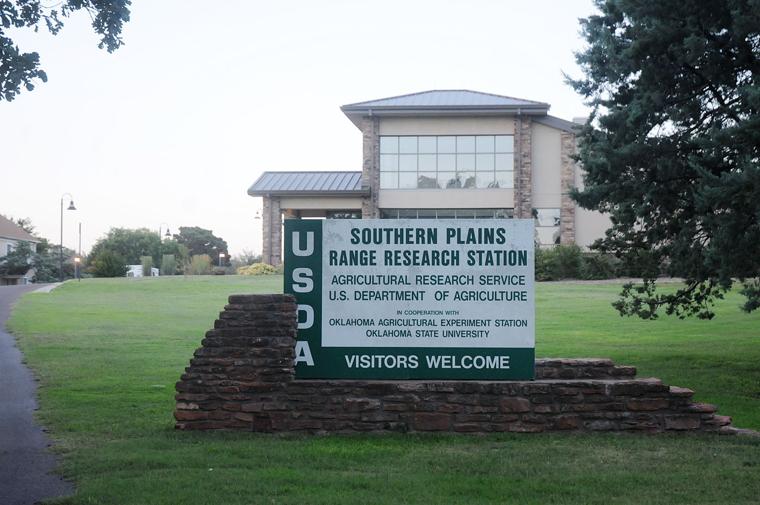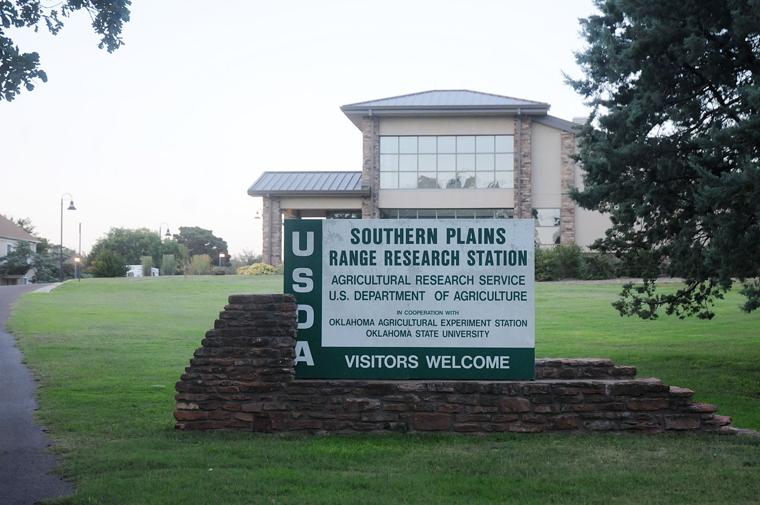 The Woodward Industrial Foundation hosted a reception and dinner in celebration of the 100th Anniversary of the Southern Plains Range Research Station on September 3, 2014. Working closely with the Oklahoma Congressional delegation, the Foundation has been instrumental in securing additional funding for the new Research Laboratory, new administration offices, and recurring financial resources in support of the research effort of the facility.

Congressman Frank Lucas was the keynote speaker and a response was given by the Acting Area Director, Dr. Larry Chandler, USDA, ARS, NPA, Ft. Collins, Colorado. Everyone at the event was excited about the growth potential and continued development of this world class research facility.
Via Woodward News:
Wind whipped tall grass and made it clap its hands as interested landowners, Woodward residents and those who simply want to know more about what is going on with all those grass plots followed tour guides at the USDA Southern Plains Range Research Station Thursday.

Crowds gathered for a late summer hay ride/tour of the research plots and heard talks on emerging forage science. The field day was part of the 100th years celebration of the existence of the first research station established here in late 1913.
Check out a recent video special on the SPRRS:
Posted
on Tuesday, September 16, 2014 at 07:03PM
by
admin
|
Post a Comment
Business, industry and community leaders joined High Plains Technology Center in dedicating the school's newest addition during a reception Friday, June 6.
HPTC Superintendent Dwight Hughes said the school's new Energy Training Center (ETC) is "not only a great addition to High Plains, but also a great addition to Northwest Oklahoma and to the whole state of Oklahoma and even the United States."

That's because the new ETC building houses the only indoor energy climbing towers in the state and High Plains is perhaps the only school in the country to have such a facility, Hughes said.
In addition to 2 climbing towers, the new building also includes an equipment storage room, offices, classrooms, a meeting room, and a large open garage area.
Posted
on Wednesday, June 11, 2014 at 03:38PM
by
admin
|
Post a Comment
Two Oklahoma towns, Weatherford and Woodward, were named among the country's 10 fastest-growing areas between 2012 and 2013, according to census data. A continued economic upswing in the state has fueled population increases in the Oklahoma City metro and has turned two western Oklahoma towns into some of the fastest-growing in the country.
Both towns saw population increases of more than 3 percent from July 2012 to July 2013, continuing a trend that began four years ago. Since 2010, the populations of Woodward and Weatherford have increased each year, according to census data.
The towns joined several other Great Plains cities on the list, a fact census researchers attribute to the boom of oil and natural gas drilling in the area.
However, unlike in western Oklahoma, oil and gas growth may not be the driving factor in population increases for the Oklahoma City area during the past two years. Other industries, like tourism, retail and construction, are the fastest growing right now, he said.
Read Jonathan Sutton's entire article from the Daily Oklahoman
Posted
on Saturday, May 3, 2014 at 09:04PM
by
admin
|
Post a Comment
2013 has been a prosperous year for Northwestern Oklahoma.
Voters approved a half-cent sales tax in Febuary that will make dramatic improvements to the Woodward Fairgrounds, including a new 60,000 square foot expo center.
In August, city voters approved a pair of sales tax measures that will fund a new fire station and improve roads.
Voters in October overwhelmingly voted to pass a $29 school bond issue that promises to provide safe rooms, secure all campuses, update transportation, provide room for a growing enrollment and bring the district in line with technology.
"It signals an affirmation that our citizens agree with the direction we're moving", said City Manager Alan Riffel.
"Now the real work begins," said Woodward Deputy Superintendent, Kyle Reynolds Tuesday - See more at: http://woodwardnews.net/local/x2112892698/School-leaders-now-prepare-to-take-next-steps#sthash.xh13Cn72.dpuf
"Now the real work begins," said Woodward Deputy Superintendent, Kyle Reynolds Tuesday - See more at: http://woodwardnews.net/local/x2112892698/School-leaders-now-prepare-to-take-next-steps#sthash.xh13Cn72.dpuf
Posted
on Thursday, October 17, 2013 at 05:04PM
by
admin
|
Post a Comment
The 27th annual Lt. Governor's Turkey Hunt in Woodward once again attracted sportsmen from all over the country, some of which had their first experience hunting turkey. Among those newcomers was Michael Mulone, Director of Event & Tourism Partnerships at B.A.S.S. (Bassmaster) from Orlando, Florida. Michael was so impressed with the trip he posted this to his Facebook page:
"I never been to heaven, but I've been to Oklahoma." Just got back from the Lt. Governor's 27th Annual Turkey Hunt. I stayed with wonderful people in Woodward, OK. Met with Governor Fallin and Lt. Gov. Todd Lamb, who recognized the success of the 2013 Bassmaster Classic at the dinner. Had an awesome hunt on two days where I saw and heard things that I have never experienced. It's pretty cool to have to stay perfectly still and silent while your heart is beating out of your chest. The guides were fantastic. They worked their tails off and I'm incredibly grateful. You know you spent quality time with great people when you are sad to leave.
Posted
on Monday, April 22, 2013 at 06:41PM
by
admin
|
Post a Comment